What are tenant apps?
As employees begin to return to the office in a post-COVID era, landlords are prioritizing tenant experience more than ever in order to maintain occupancy. Over the past year technology has proven to be an invaluable tool for connecting workers and maintaining productivity. Now that offices are reopening, the implementation of new technology and digital infrastructure will continue to be indispensable to providing tenants with the working experience they now demand.
In many cases that experience will be largely curated by the landlord, through new tenant apps. These apps have been increasingly adopted in markets like the US and Australia in recent years, and are now gaining traction in Asia with a modified approach.
Let's take a look at a day in the life of an office worker in a building providing a tenant app.
Arriving at the building
For those that drive to work, parking fees can be paid through the app, with the option to reserve electric vehicle charging if the building provides it. HqO, a tenant app with wide adoption in the US, is even mindful of accessibility needs and provides transportation service bookings and ramp information directly in their app1.
Perhaps they want to start their day with a morning coffee. Workers can easily place their orders in advance for pickup in the lobby. This can even be automated upon arrival.
Entering the office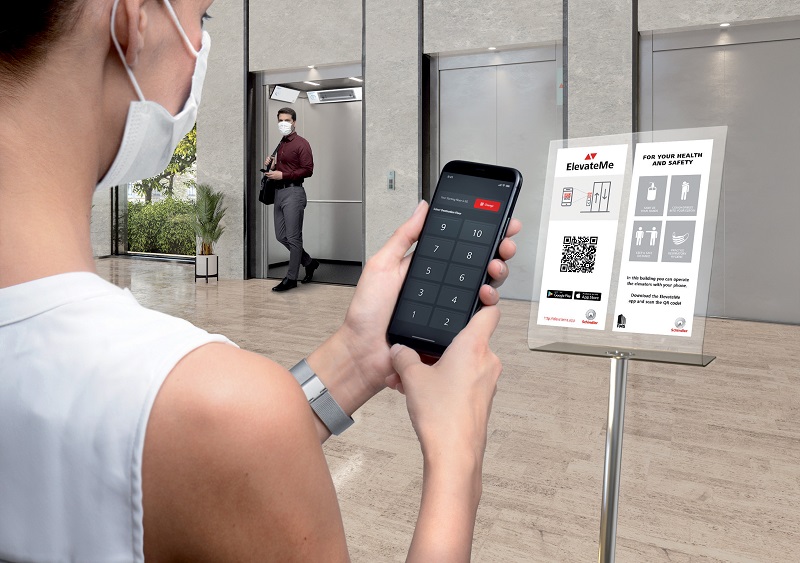 Elevator buttons have been removed from the equation with the features available right on the tenant app (Photo: Business Wire)
With workers more conscious of their health and wellbeing, contactless entry is fast becoming a must-have for office buildings. When an employee arrives, they can gain access to the building without speaking to a receptionist or tapping their access card on a high contact surface by checking in through their tenant app. For buildings using En-trak TEP as part of their tenant platform, the air conditioning upstairs will automatically adjust to meet the preferences of the occupant who just arrived – personalized cooling on demand.
Equiem, a tenant experience platform from Melbourne, even prompts tenants to reserve a building entry time as a way to further reduce virus transmission risk as employees enter the office building2. Every aspect of lift use can also be made completely contactless, from calling the lift to selecting the floor.
The workday
After tenants enter the building, the workday begins. With hybrid working arrangements on the rise, there's a good chance they'll need to book a desk. These days that could mean a desk in their employer's permanent office space or it could mean a desk in the building's shared flex space. Either way, with a good tenant app they can check availability and make their booking using the same app. For buildings using En-trak TEP as part of their tenant platform, occupants can furthermore request cooler or warmer temperatures in the area of their desk, perfect for personalized comfort that follows you, no matter where you work.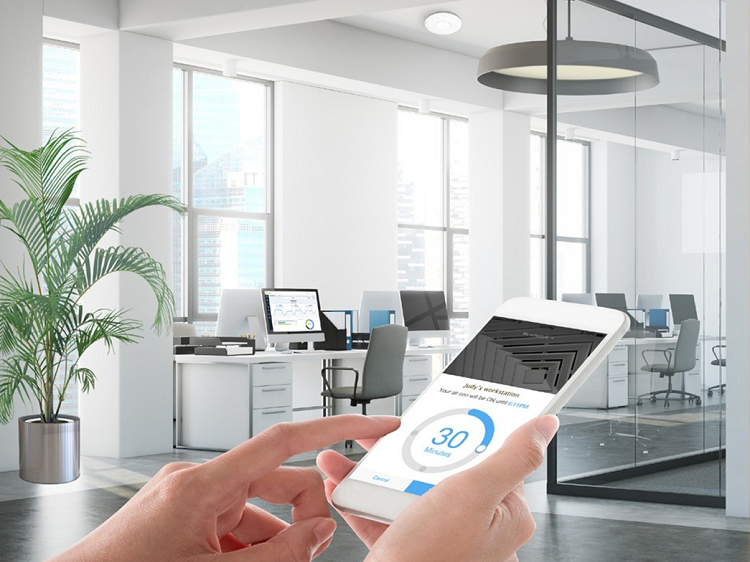 En-trak TEP allows for quick, intuitive control of the aircon in meeting rooms
Meeting rooms, both private and public, can also be booked directly through most tenant apps. En-trak TEP pre-cools meeting rooms ten minutes before scheduled appointments, ensuring optimal comfort for its occupants while also being energy conscious and minimizing cooling of unoccupied spaces.
Maybe you have a meeting with a client. How is this client going to get into the building? Registration and guest passes can all be accessed digitally and contactlessly. Guests no longer have to go through a lengthy check-in process with the building receptionist – they just need to pre-register and scan a QR code to enter.
Taking a break
Over lunch you might want to pay a visit to the gym. To limit capacity and ensure availability of equipment, reservations can be made for fitness centers and shower areas ahead of time. Many tenant apps also offer meal ordering for F&B tenants. These tenants can offer unique discounts or rewards for office occupants through the app, as does Centricity, Hongkong Land's tenant app developed by CBRE Host3.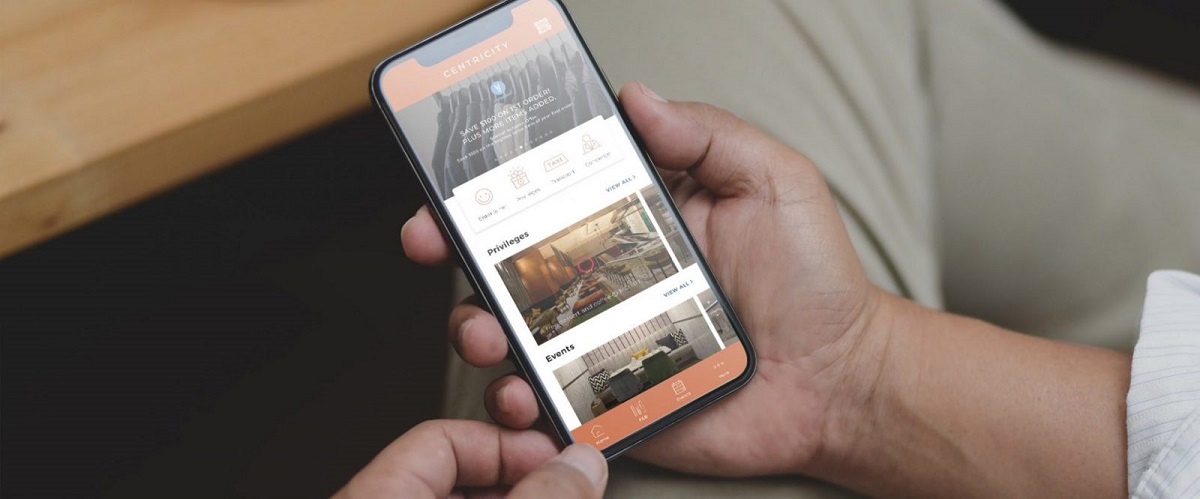 Centricity App allows Hongkong Land properties' tenants to order f&b directly from the app for pickup (Photo: Centricity App)
Exiting the building
Services such as ordering groceries and scheduling a dry-cleaning or mailbox pickup can be integrated into the platform as well. As workers leave the building for the day, they can access these services to shorten their errands on their way home. Umbrella rental is available in many buildings and is accessible through tenant apps, keeping tenants dry and happy after a long workday.
Benefits for building management
While tenant apps overtly focus on enhancing the office experience for occupants, they can also streamline operations for the building management team. As tenants use the app, valuable data is collected about the overall use of services/facilities and occupant preferences.
This data can provide insight into which types of F&B vendors are popular, enabling maximization of retail revenue. Meeting room and hotdesk booking platforms can show which tenants might need to upsize or downsize their space and which flex space facilities are not being used as often as they could be. Even mechanical issues can be identified before occupants complain, through AI tracking of temperature adjustment requests.
Tenant apps are the future of the commercial real estate, not just because of their positive impact on the tenant experience but also because of the insight they provide to building management. The overall result is a building that is more responsive to its tenants, providing maximum value for maximum revenue.
1Tenant Experience Platform | HqO, 27 Oct 2020
2Return To Work | Equiem, 22 May 2020
3Centricity Flex | Centricity, 20 Apr 2021