18 May 2021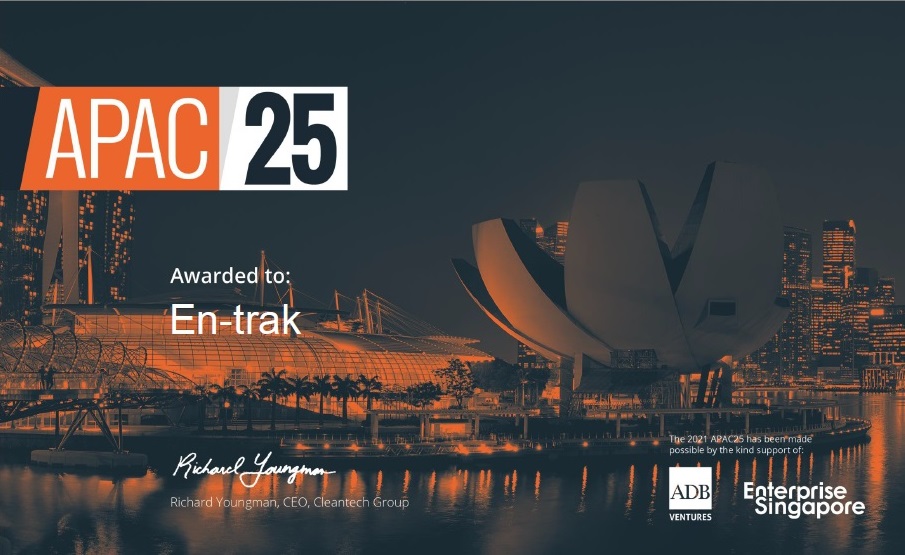 Hong Kong/ Singapore
En-trak, an award-winning PropTech solution provider in APAC, is included in the 2021 APAC 25 list produced by Cleantech Group, a global leader in research, consulting and events that catalyze opportunities in sustainable innovation.
The APAC 25 is a list of private and independent companies in the Asia Pacific region dedicated to sustainability and evaluated by experts in the field as likely to make a significant impact in a five-to-ten-year time frame.
Cleantech Group put together the fourth annual list of 25 companies by combining detailed contributions from an APAC 25 expert panel with the APAC-related inputs from its annual Global Cleantech 100 process. The companies with the strongest patterns of agreement across all the input points were given the highest scores. Companies can only be on the APAC 25 list once.
"We are pleased to receive this recognition, especially in this post-pandemic environment. It proves that our strategy of bringing smart and sustainable technology into the commercial property sector aligns with the upcoming business trends," said Dr. Vincent Chow, CEO & founder of En-trak. "We are confident that PropTech will play an even more important role in driving sustainability in the future as net-zero and UNSDGs are coming onto the agenda."
Members of the APAC 25 expert panel play an important role in creating the list. The 2021 APAC 25 list is made possible by the continuing support of ADB Ventures and Enterprise Singapore.
"The Asia Pacific region is by far the largest emitter of CO2 today, given it is the motor of most of the heaviest industries of the world," said Richard Youngman, CEO of Cleantech Group. "We all have a stake in solving that challenge and our 2021 APAC 25 companies provide a sampling of the range of emerging solutions required – from agtech to the future of mobility, from plastics to natural resources, from energy efficiency to clean energy abundance."
About Cleantech Group
Cleantech® Group provides research, consulting and events to catalyze opportunities for sustainable growth powered by innovation. At every stage from initial strategy to final deals, we bring corporate change makers, investors, governments and stakeholders from across the ecosystem the access and customized support they need to thrive in a more digitized, de-carbonized and resource-efficient future.
About En-trak
En-trak is an award-winning PropTech company backed by Alibaba and CLP. Our solutions are used and trusted by over 350 world-class clients across Asia. En-trak connects occupants with their buildings through on-demand A/C and lighting to enhance satisfaction and thermal comfort, while at the same time optimizing operational and energy efficiency. En-trak serves clients across Asia-Pacific including China, Singapore, Thailand, Indonesia and Australia.
Marketing and Press Contact:
Jason Wong
Marketing and Press
Tel: (852) 2311 2488
Email: marketing@en-trak.com